---
---
---
---
---
---
---
---
---
---
---
"Tom Hagen: You know how they're gonna come at you?

Michael Corleone: They're arranging a meeting in Brooklyn. Tessio's ground. Where I'll be safe.

Tom: I always thought it would have been Clemenza, not Tessio.

Michael: It's the smart move. Tessio was always smarter."
– Tom Hagen and Michael Corleone, discussing Tessio's assassination plot; The Godfather (1972)
Above virtually all American movies, I hold the first Godfather film as the pinnacle. It stands as a masterpiece in cinema, a near flawless accomplishment in nearly every facet, and there are more quotable moments within it than a Will Ferrell movie. I'm talking about classic lines and monologs, picture perfect deliveries and dialogue, from the first spoken sentence ("I believe in America.") to the final line where Michael is confirmed as the most evil human being you had ever seen in a movie (until that point).
But that opening sequence I quoted always stuck out to me, partly because I made it a habit to know about The Godfather lore. Vito, Peter and Salvatore were friends coming up, but it was Corleone who held the reins and became the leader amongst leaders. Tessio (because I guess 20th century Italian-Americans spoke to each other using last names) was smarter, and Clemenza was more loyal, as well as the more hot-headed of the two. But as the years went by and Michael Corleone took over the business that Vito once held, Tessio grew suspicious. At no point did he ever really trust the future Don (somewhat reasonable, considering how his two best friendships were built over decades) and he was doubly weary of the young man due to Corleone's insistence that there be no vengeance about Barzini for his mess. All the same, that was still MORE trust and respect for Michael than Clemenza himself had for Michael, or even Tom Hagen for that matter.
Loyalty is an interesting concept because it has a nasty habit of playing with another significant "L" word: logic. The two don't always go hand in hand, and sometimes the extremes can appear to be dangerously outlandish. For example, a logical friend will bail you out of holding after a night of drinking. A loyal friend is likely sitting next to you in jail because he couldn't bare to see you drink alone. A logical person saves his money and buys a car for his child when it is wholly affordable. A loyal person might purchase the car the second the child turns 16, even if the cost is unnecessary.
What was it about Tessio that had him so loyal to Michael Corleone, second only to Vito Corleone himself? That's irrelevant, honestly, but likely his relationship with Vito. The real question: what led to Tessio arraigning Michael Corleone's assassination? Loyalty will have you step back and heed the advice of your friend, especially if he tells you to heed the advice of his son. But logic will make you remove your emotions from the equation entirely. It would be very easy for me to turn this into a mild dissertation on The Godfather versus a piece about how logical it was for Seth Rollins (Tyler Black (Colby Lopez)) to turn on the Shield, because the film – hell, the FRANCHISE – toys with that age old debate like an actress in San Fernando Valley, and while Tessio always liked Michael as a person, he was logically concerned with Michael the organized crime leader. And that's when loyalty took a back seat to doing what was logical.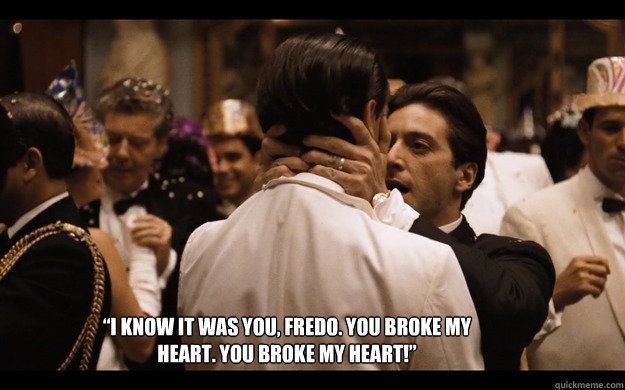 You still with me? Good. It was long since time for me to throw my hat into the fray with this whole Seth Rollins business, and after the shock value of it wore off (estimate time: forty seconds) I could step back and appreciate it for what it was. Let's throw a third "L" word into it: legacy. The conflict between the Shield and Evolution has been a little foray into the grand existential romp that is building a legacy. The Shield has been compared to, and in some cases hailed as the new standard for, the professional wrestling stable. With this mercenary group we have a trio of young men who meld well together, fight well together and sway a crowd like few groups can, or have. You have the cerebral loose cannon in Dean Ambrose (Jon Moxley (Jonathan Good)), a man who invokes the spirit and agility of Brian Pillman. You have the tactical, logical architect in Seth Rollins (Tyler Black (Colby Lopez)), a high-flier who, by all standards, could be the most talented man on the roster. And you have Roman Reigns (Leati Joseph Anoa'i), an agile powerhouse who is probably going to take the crown Cena wears in a few years.
Never mind the fact that all three of these guys can work a ring: instead focus on how much you love the Shield. They're a great faction. And now they aren't. Because Seth Rollins betrayed them and sided with Triple H and Randy Orton. You know what Evolution represented as they stood over the fallen members of the Shield on Monday? The essence of legacy. Not the other stable Orton was in (though keep that in mind; it might come up later) but the overarching idea of having something that exists in the hearts and minds of people long after it has gone away. Evolution's return was probably requested by a whopping two and a half people, but the Shield needed a logical opponent to match them three on three; for all the conflicts they had with the Wyatt Family there was rarely any reason for it outside of "They got three guys, we got three guys, let's have six guys beat each other, I don't know, shit". And with the cerebral-tactical-powerhouse combination being in full effect on both squads, it was truly like watching something akin to a changing of the guard.
And that's what most issues and feuds of any significance come down to within the confines of professional wrestling and sports entertainment. No wrestler goes into any company with the intent of simply going in and doing a job. Everyone is concerned with the type of legacy, what kind of everlasting impact they leave. Those like John Cena can say they've left a lasting legacy in the ring and beyond. Those like Hulk Hogan can say they left an imprint on the world as a whole. Even after all the crap I give TNA, someone like AJ Styles can be mentioned to most wrestling fans and be adored, thus solidifying a legacy. Storylines are built around such a construct.
Which takes us right back around to Seth Rollins. What would compel a man to turn on his team and join with the people he and his now former team have defeated in two PPVs now? The only thing I can think of right now, having not seen SmackDown yet, is because it was the smart move. And Seth Rollins has always shown himself to be smarter.
Much like with Cesaro and Heyman, logic wins over loyalty in the pursuit of legacy. Everyone knows Heyman is a heel manager, and Cesaro, prior to joining him, was a face, so why did he side with our favorite walrus? Because Heyman guys go to the top, and outside of perhaps Jack Swagger you can say with confidence that you remember most world champions. Cesaro isn't concerned with fan approval or whether people like him: he wants to be at the top of the pyramid, and Paul Heyman takes people there, period.
Legacy.
Seth Rollins jumped ship to the side of Triple H, standing triumphant with him and Randy Orton, looking over his fallen ex-compatriots. That was interesting to me for another reason but I'll get into that in another piece. When it comes to creating something that people never forget, who better to side with than Triple H? Who better to ally yourself with than the man who came into the company and can now boast that he damn near runs it? It isn't often that we debate the genius behind Paul Levesque, but suffice to say that he's where he is for a good reason, and not just for the sake of storyline. Frankly, he reminds me a bit of Little Finger from Game of Thrones. Just a little bit.
But back to Rollins. It was the smart move. Of the members of the Shield he hasn't just shown himself to be the smartest but also the most logical; no, the ONLY logical one. He is portrayed as the architect, the glue that held them together (in retrospect the summit he held way back when could be seen as a foreshadowing), the man with the brains who constantly defies death. You know: Jeff Hardy if Jeff Hardy gave a damn. His movements and actions always walked the line of logic. How to best defeat and opponent, how to best take apart a challenger, etc. Contrast that with the insanity-laced Dean Ambrose and the loyalty-based Roman Reigns. The former is too much of a wildcat to truly maintain ANY allegiance, so I hesitate to think he could truly "defect" so much as find a new shiny bauble to entertain him. If Rollins and Reigns weren't wearing military fatigues I don't even think he'd know he was supposed to be with them. The latter is all about loyalty, so it doesn't matter what happens: it's about the team. He stands with the team above all things, and this was best evidenced with the earliest appearances of the Hounds of Justice, where he was the silent powerhouse that went along with what the mouthpiece Ambrose said. That's not to say anything bad about him, not in the slightest, but he has grown from the muscular follower to the possible leader when it was a role that seemed to be poised for Ambrose and Ambrose alone to hold.
Some might say that jealousy is the rationale. I say, "Nah." If this were, again, the early goings of the group then yeah, I would see that as a viable option, but at this point all three of the Shield's members have a lot of momentum and respect. Rollins is arguably the most exciting to watch of the three, and that's saying something. It's more than just how he jumps around and off of high objects: he's just masterful in the ring. Part of my saying that is bias: I've been a fan of Tyler Black since his days in the indies, and I know what kind of greatness he's capable of pulling off, especially with capable opponents. The only thing he has to be jealous about, if jealousy is a factor (which I don't think it is) is how Roman Reigns is on the rise. If that is true, I'm reminded of the Nation of Domination and how the Rock just took over after a while. Not ironic at all, nope.
At the end of the day, more people seem mad about the break up of the Shield than anything, but as the old saying goes: "End it on a high note". Much like D-X or, now Evolution, I can see the Shield as something that comes together after so many years in reunion form. They are literally at their peak right now, so yeah: break it down on a high note. Let the legacy last. This opens up some spectacular singles runs for all three of them.
I contend that Seth Rollins was poised to be a star from the beginning. Championship wise, at least. Like Big E and Bo Dallas, he came to the main roster following his run at NXT Champion, so I think there has been some star potential seen in him from an early time, but the question was how. Why not like this? He becomes a heel because of betrayal, ascends because of affiliations, and even with Reigns on track to being the company's top star, how great would it be if his long standing opponent was Seth Rollins? Who under the faux-tutelage of the Game hasn't gone on to superstardom? World championship runs? Let it be known that I'm not saying that this is going to lead to Rollins being world champ anytime soon, but it will lead to an emotional storyline that might put him into the main event fold. Let's not forget: Money in the Bank is just around the corner and Daniel Bryan may or may not be cleared in time.
But that's just my two cents on it. Legacy. Seth Rollins has all the tools to be a successful single star, and this betrayal is a great way to start it, as is affiliating one's self with Triple H. Where will it lead though? Who knows? With Cesaro and Heyman I think a moment of clarity is on the horizon for the former. With Rollins, a lot of people think his turn is going to lead to a double cross in the same vein as Daniel Bryan did with the Wyatt Family. To that, I say, "Possibly, but I hope not". It's been done, and it would do little more than appease a few butthurt people who can't deal with change. Not just that, but it would be twice as confusing as any storyline in recent memory. Bryan was getting beat up by the Wyatts like his name was Rey Mysterio and the Wyatts were the demon spawn of Mike Knox (it does explain the beards). He joined because he felt like he didn't have a choice, and the double cross was taking them out from the inside. Rollins and the Shield proved dominance over their opponents, emphatically. What purpose would Rollins have to jump ship unless it was a selfish move, and frankly that's all you need. Selfishness is a classic motive.
But so is logic. Because logic is smart. And appealing to your legacy is a smart move.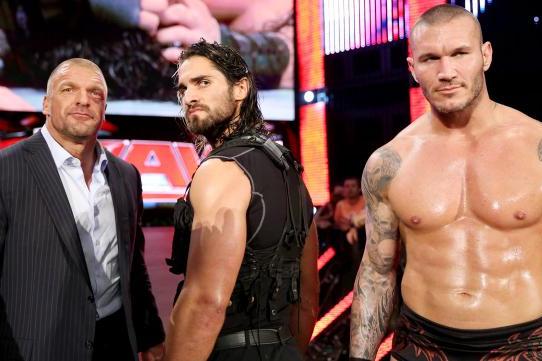 And Seth Rollins has always been smarter.
P.S.: speaking of smarter, this old picture of Colby Lopez with his girlfriend… she kind of resembles Sasha Grey. There's absolutely, positively NOTHING wrong with that.
---
---
---
---
---
---
---
---
---
---
---
---
---